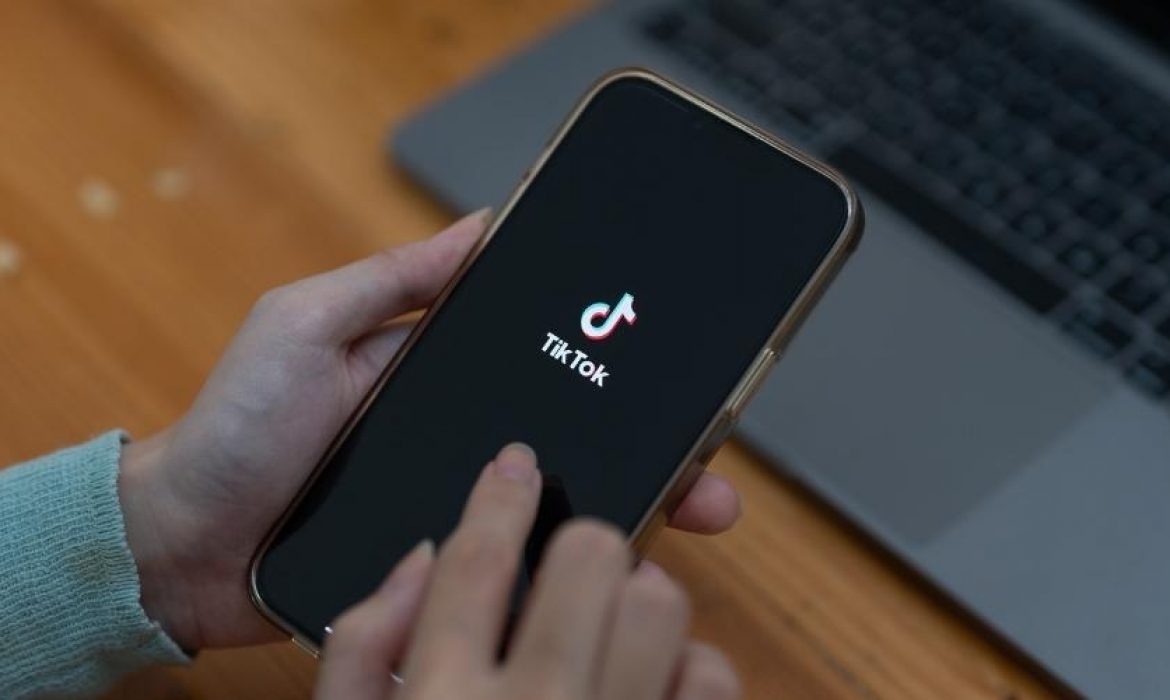 For a long time, businesses didn't take TikTok seriously. A lot of businesses considered it as a platform for Gen-Z to watch short, funny videos. However, when its user growth increased in 2020 (1157.76% increase in TikTok's global users between Jan 2018 and July 2020), brands started to realize that they shouldn't miss out on this major marketing chance. In Q4 2021, TikTok had 1.2 billion monthly active users and is expected to reach 1.5 billion by the end of 2022. Given the rapid growth rate and an increasing amount of time spent on the app, it is never too late to invest in TikTok for your business.
We have put together this complete guide that covers everything you need to know about TikTok: Why you should use TikTok for your business, how to create viral videos, and most importantly, how you can run successful marketing campaigns on TikTok via TikTok Marketing Agency. Here we go!
TikTok is a social media app that allows users to create and share short-form, entertaining videos. While other social media platforms are focused on images and text, TikTok is all about videos. Over the past few years, TikTok users have grown exponentially, particularly among the younger generation. Below are 10 TikTok statistics you need to know: 
TikTok was the

most downloaded app in 2021

with over three billion times. 

In Q4 2021, TikTok had

1.2 billion monthly active users

and is expected to reach 1.5 billion by the end of 2022.

TikTok is now the world's

fifth most-used social media platform

based on global active users.

TikTok has been adding more than

650,000 new users

every day over the past three months, which is almost eight new users every second.

A user opens the TikTok app an average of

8 times per day

.

A user spends an average of

52 minutes per day

on the app.

TikTok is more consistently engaging, and its engagement rate was

15% stronger

than other leading platforms.

92% of users worldwide

react after watching a TikTok video

43% of TikTok users

try something or go somewhere new after seeing it at least once on the platform

TikTok generated an estimated

$4.6 billion revenue in 2021

, a 142% increase year-on-year.
How is TikTok different from other Social Media Platforms?
Human, Unpolished Content
Do you know that 56% of users and 67% of creators feel closer to brands they see on TikTok? This is because TikTok videos tend to be more "human and unpolished", unlike Instagram and Facebook which are always showing the perfect side of people. And the result? Nearly half of all TikTokers have purchased a product after seeing it on the app!
Greater Audience Engagement
While other social media platforms like Twitter and Instagram are designed to drive conversations, no apps can give you the engagement that TikTok provides. Its For You page promotes a high level of relevancy and engagement, which makes the audience better remember and engage with brands. According to a TikTok study conducted by a neuro analytics and neuromarketing firm, TikTok's engagement rate was 15% stronger than other leading platforms, and its ability to influence your purchasing decision is 44% stronger than Social Media on average.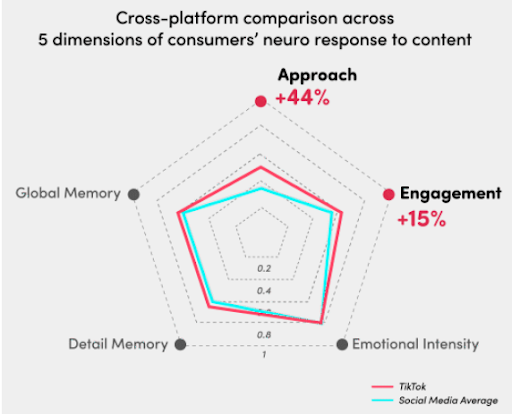 A Playground for Creativity
TikTok is a playground for creativity – it allows users to edit videos, use a wide range of filters and effects, add trending music, and so on. There are lots of opportunities for brands to be creative, experiment with video content, build meaningful connections with the audience, and expand their reach beyond existing fans.
Daily Trends
The best part about TikTok is that there are always new trends! TikTok trends open up a new way businesses communicate and connect with their customers, as images and boring text are transforming into engaging videos and conversations. Hopping on the latest trends, brands can become a part of the everyday moments and drive conversations on TikTok.
Who are TikTok users?
TikTok is a powerful platform for brands looking to expand their reach to young adults, as nearly 53 percent of TikTok global users were between 18 and 25 years old. Users aged 13 to 17 years were the second largest user group with approximately 19 percent. As of January 2022, 57 percent of TikTok's global users were women.
As of June 2021, TikTok's user base in Southeast Asia has exceeded 240 million, up by 85% year-on-year. Around 800 million videos were created by these users, reaching more than a trillion video views in June alone. According to a report, approximately 70 percent of TikTok users are Gen Zs, followed by users aged 26 to 32 years old. Male users made up slightly more than half of the users (52.4% and 47.6%, respectively).
In early 2022, figures published in ByteDance's advertising resources indicate that TikTok had 1.83 million users aged 18 and above in Singapore. It also indicated that TikTok's ad reach in Singapore was equivalent to 33.5 percent of the local internet users, regardless of age. Female users made up slightly more than male users with 54 percent.
Is TikTok just for Gen Z?
This is what we often hear from businesses: "TikTok is just for Gen Z. My target audience is not Gen-Z". If we take a look back on other platforms like Instagram and Facebook, they all started off as very new platforms with little value for businesses. The same is expected with TikTok. In fact, there are signs that TikTok is reaching a wider audience, with content not limited to dances and lip-synching videos. There are cooking, parenting, education, and science videos on TikTok, and they are growing in popularity. 
What do people want to see on TikTok?
TikTok is well-known for its fun and entertaining content. According to Nielsen, TikTok was the only app where "lifting my spirits" was a top reason for using it. Additionally, nearly 3 out of every 4 users said that they felt inspired and entertained while using TikTok!
Below are some of the most popular content categories on TikTok, according to Statista:
Entertainment

Dance

Fitness/Sport

Beauty/skincare

Fashion

Cooking/recipes

Lifehacks/advice
TikTok Trends and Challenges
TikTok is all about the trends. The platform is designed to showcase any trends at the moment, so spotting new trends on TikTok is not difficult. Once a trend starts to gain traction, jumping on it can help brands drive more traffic and increase their follower base.
Here are 4 easy ways for you to keep up with the current trends on TikTok:
The "Discover" Tab: Scroll through popular sounds, hashtags, and topics along with a preview of the top videos within the category.

The "For You" Page: This page offers never-ending ideas and trending videos. If a video has thousands of likes or views, it's worth digging into as it might be related to a new trend.

The "Search" Tab: TikTok's search tab is another way to discover new trends. You can type in with your industry/product name, and TikTok will auto-populate suggested searches based on trending topics.

The #TrendAlert2022 Hashtag: Some hashtags that TikTok creators have been using to detect (or create) new trends are #TrendAlert, #TrendingNow, #TrendAlert2022.
The TikTok challenge is another thing to keep an eye on, as it is one of the biggest trends on the platform. The idea of a challenge is simple: It is fun to get people's attention and easy for them to participate. We will share more about it later.
TikTok has created a whole new generation of social media influencers. They have the expertise to produce video content and the power to influence their followers. According to the Influencer Marketing Report by Affable, as of June 2021, 51 percent of TikTok influencers in Southeast Asia are between 19 and 25 years old. A majority have a following from 10k – 50k (47%), followed by influencers with 50k – 100k followers (25%).
In general, influencers having 10k – 100k followers have the highest engagement rate on TikTok. It is not surprising as micro-influencers are considered more authentic and develop a more personal relationship with their audience.