Best Fintech Marketing Strategies 2022
Content Strategy
Do you know that 47% of B2B buyers consume 3-5 pieces of content prior to engaging with a salesperson? A survey from Demand Gen Report indicated that B2B buyers prefer content that educates rather than just sells. They are looking for advice that helps them benchmark their strategies and success stories from others facing the same challenges. Below are seven types of content to build trust while educating your prospective customers:
Case studies

White papers

Webinars

Ebooks

Video/motion graphics

Infographics

Podcasts
The same report also indicated that readers are shifting toward visual and easily digestible formats due to the large amount of content consumed every day. If your website is struggling with low-quality traffic, try writing a mix of both long-form and short-form content, and make it more engaging by including infographics, charts, video, and case studies.
An example of an effective content marketing strategy is Wealthsimple, one of Canada's leading Fintech companies. The company created a digital magazine that allows readers to easily digest news about investment, business, cryptocurrency, and other emerging topics. As visuals are proven more powerful than text, the company created a unique look for all its marketing channels (website, app, blog, etc.) with eye-catching designs, infographics, and custom illustrations. Its strong focus on visuals helps the brand resonate with the mass millennials market and become the go-to source for investment and money advice.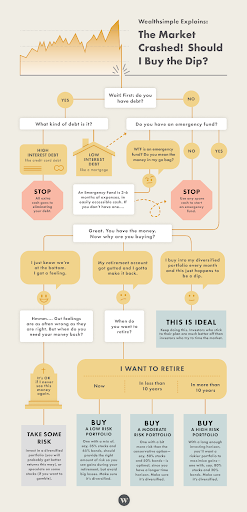 Lead Magnets
Lead magnets are used to generate a steady stream of leads that later can be qualified and nurtured through the marketing funnel. They are basically anything that offers real value to customers, from white papers and reports to case studies and free trials.
In a B2B context, case studies are one of the most effective ways to promote your products and services. In fact, up to 73% of B2B buyers viewed a case study during their research since it provides compelling proof of a company's abilities. It also helps brands build trust as people value the opinions of their peers over what businesses say about themselves. .
Pro Tip: A great way to create high-converting lead magnets is to put your content onto a landing page and direct traffic to it through paid ads. Another way is to leverage exit-intent pop-ups, which fit well with various content types such as webinars, case studies, and ebooks. Ensure that your pop-ups are easy to close and have a clear CTA.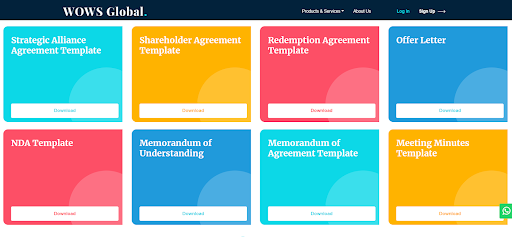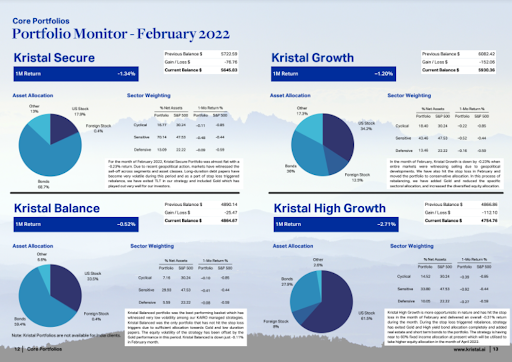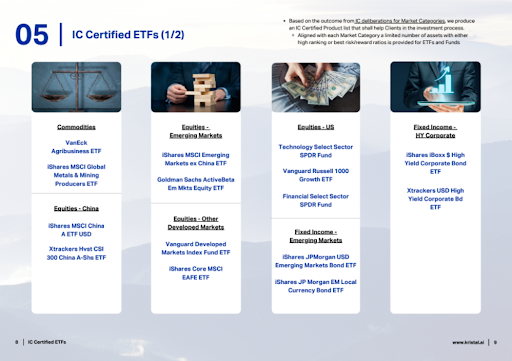 Hosting webinars is a common strategy for building awareness and reinforcing brand authority. Throughout the events, you can establish themselves as experts within a specific area, reach out and develop meaningful relationships with prospects. You can either team up with industry-related influencers to guest on your webinar or register to become a speaker at major events.
Founded in 2017, ADDX is a leading digital securities platform for private market investments in Singapore. The company regularly hosts webinars and invites external speakers to share on various topics like Private Credit, Web 3.0, Security Token. Participants need to register with their business information to join the webinar. They also share the events on different marketing channels to maximize exposure.
Email Marketing
Email marketing remains the leading marketing channel for nurturing potential and existing customers. Email Marketing Industry Report published by Econsultancy reveals that email marketing was the top-rated channel for ROI, followed by SEO and paid search.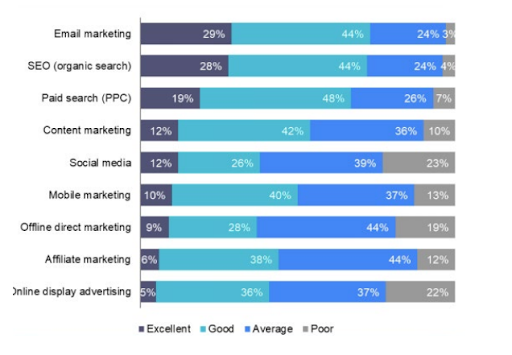 Email marketing automation is a tool to help businesses personalize email at scale. It can leverage user data to segment their contacts, set up behavioural triggers and workflows to nurture leads and maximise the impact of their campaign. Accordion to Campaign Monitor emails with personalized subject lines are 26% more likely to be opened, and marketers have found a 760% increase in email revenue from segmented campaigns.
There are three ways that Fintech companies can use email automation to their advantage:
Educate customers: Share educational content such as guidelines, checklists, downloadable templates, and reports. 

Entice and excite customers: Free subscriptions, customer referrals, or anything that makes them excited and triggers action. 

Win back lost customers: Set up an automated re-engagement campaign when customers haven't engaged with your website or email for a while. It should include something that reinforces the company's value and gives them an incentive to come back to your website.
SEO Strategy
Search engine optimization (SEO) is a long-term digital marketing strategy that helps websites rank higher in search engines, primarily on Google. According to research by Ahrefs, more than 90% of online content gets zero traffic from Google. So how can you be a part of the minority that gets organic traffic from Google? Here are five important factors that can have a significant effect on your Google ranking: 
Keyword Research
We often recommend businesses utilize long-tail keywords, as they are less competitive and can result in higher conversion rates. In fact, long-tail keyword searches were found to have a click-through rate 3-6% higher than generic searches. This is because long-tail search queries typically occur when customers are moving down the sales funnel.
It is also important to target keywords for different stages of the funnel. For example, ToFu keywords should be broad and general as it aims to build awareness in the early buying stage. Meanwhile, BoFu keywords should be more specific and focus on how your product can effectively solve customers' pain points. 
User Search Intent
User Search Intent is the user's main goal when typing a query into a search engine. Your content must stay relevant to user intent to rank high on Google. For example, someone searching for "what is bitcoin" is in research mode. They want to see educational articles that help them understand it. On the other hand, a person searching for "buying bitcoin in the US" is likely to be in buying mode, so Google responds to it by showing a long list of cryptocurrency platforms. More about user search intent will be shared in the case study.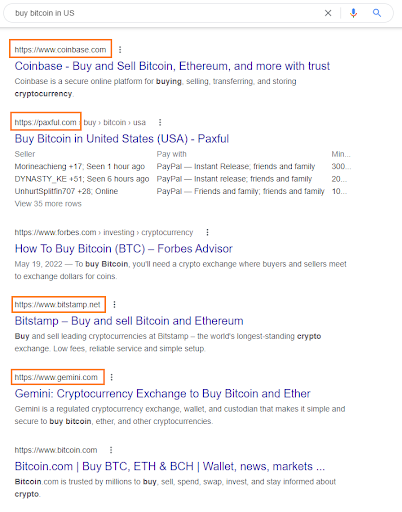 Backlinks
While we all understand the importance of backlinks, it is interesting to note that not all backlinks are equal. There are two factors that contribute to an effective backlink: Authority and Relevance. Backlinks from trustworthy, authorized websites would hold more value than low-authority ones. Similarly, backlinks from industry-related websites can add more credibility to your content and move the needle in the search results.
Fresh Content
Freshness is more important for some queries than others. For example, the top results for "Singapore news" are articles published within one day. It even shows Top Stories with articles published from the past few hours. This is because Google wants us to stay updated with the latest news.
Keeping your content fresh by updating the latest Fintech trends and technology is a great way to drive organic traffic and become a part of the online conversation.
Page Experience
Page experience is another factor that Google takes into account when ranking a website. It is a set of metrics that measure how users perceive their experience with a website beyond its information value. Here are some of the metrics suggested by Google's developer document:
Mobile-friendliness: Users should be able to access the page via mobile.

Security: The page should run on HTTPS.

Browsing safety: Safe browsing checks for security issues including malware, deceptive pages, harmful downloads, and uncommon downloads.

Loading performance: A fast server response time will result in better performance. 

Presence of intrusive interstitials: The content on the page is easily accessible to the user. This might include aspects like pop-ups and ads that intrude on the main reading experience. 
Social Media
Having a Facebook page, a LinkedIn profile, or a Twitter account allows people to engage with your business online. In fact, companies with the most robust omnichannel customer engagement strategies retain an average of 89 percent of their customers compared with 33% for companies with weak omnichannel strategies.
Maintaining multiple social media channels can be time-consuming, so it is essential to invest in the right channel. LinkedIn is a go-to platform for B2B businesses. 82% of B2B marketers use Twitter as a part of their social media marketing strategies. Facebook and Instagram are powerful marketing channels for targeting young audiences and building brand awareness. Facebook is an excellent choice when it comes to audience targeting capabilities.
Step is a mobile banking service that targets millennials and Gen Z users. It has amassed over 2 million users since its launch in 2020 thanks to its hyper-focus on teens. The brand developed a solid social presence on various channels including Instagram, Twitter, TikTok, and Youtube. To resonate with young customers, their content covers various topics from money education, product updates to interviews with Gen Z founders, mini-games, TikTok challenges, or even horoscopes. Step's social media marketing strategy is a great example of knowing your target audiences and building an emotional connection with them.
Paid advertising
Paid advertising is a digital marketing method that enables you to reach your targeted customers instead of waiting for them to find you. You can target them based on a wide range of criteria such as customer interest, demographics, search terms. SEM (Search Engine Marketing) and social media ads are the two most popular paid ad strategies at the moment. They can work with any budget and work well if they are combined with each other.
SEM
Paid search, or SEM, drives traffic to your website by getting your ads to show up on the search engine results pages (SERPs). Most businesses use the pay-per-click (PPC) model since it helps them reach their target audience and track their performance. Google Economic Impact Report found that PPC visitors are 50 percent more likely to make a purchase than organic visitors.
To increase the effectiveness of your ads, here are some factors to consider:
A/B Testing: If you're running paid campaigns for the first time, it is important to test different elements in your ads (audience interest, headline, images…). A/B testing allows you to see which ad performs best and optimize your campaigns over time.

Google ad pricing is very flexible, so you can spend as much or as little as you want depending on your budget. However, as your bid for the keyword partially determines your ad ranking, it should be high enough to rank well and enable your ads to run efficiently.

Determine the right keywords: Targeting different keywords for different stages in the buyer's journey can help optimize the conversion. For example, someone searching a general query like "digital payroll solutions" is probably in the awareness stage. A landing page introducing your product and its benefits is more effective than a case study.

Retargeting ads: Google has retargeting technology that allows brands to show ads to people who have already engaged with their business or searched for related terms on Google. For example, when a man leaves your website without making a purchase, you can display ads for the product that he previously interacted with. This is a great way to remind customers about your brand and keep you on top of their mind when they decide to make a purchase.

Use tools to make your ads work better:
– Keyword research: Google Keyword Planner, Ahrefs Keyword Explorer, SEMrush.
– Campaign management: Google AdWord, Google Ads Mobile App.
– Tracking: Google Analytics, Google Ads Performance Grader.
Omni Digital is a full-service digital marketing agency that helps businesses scale through paid search and social. Our team of experts can help you set up, manage and optimize your ad campaigns to get the most out of your marketing budget.  
Social media ads
Like PPC ads, paid social media ads use a bidding model to display ads to potential customers based on their behaviors and interests. If you are new at PPC, we recommend you spread out your campaign budget to multiple channels and see which one brings the most conversion. Running social media ads is an ongoing process with continual testing and refinement, so it will take a while to identify your best-performing channels and what messaging resonates the most with the audience.
Pro Tip: According to Target Marketing, 68% of marketers surveyed invest in social media retargeting. On Facebook alone, retargeting ads are 76% more likely to get clicks than regular ads. If your ads are not getting enough attention on social media, allocating some budget for retargeting can keep your brand at the forefront of your customers and increase your conversions.
1. Facebook Ads
Google Ads and Facebook are the two platforms that most companies start with. Instead of targeting keywords like Google Ads, Facebook ads are based on the audience's behaviors, interests, or actions they've taken in the past. It has a complicated algorithm working in the background to make your ads visible to your target customers.
While the engagement on Facebook seems a bit cold, the secret to successful Facebook ads lies in wise audience targeting and retargeting ads. As of May 2022, the average CPC across all industries on Facebook was $0.931. However, a lot of advertisers don't choose to pay for clicks on Facebook. They prefer paying for every 1,000 impressions (CPM). That said, the average CPM in May 2022 was $12.53.
Pro Tip: The Ad Library provides a comprehensive, searchable collection of all ads currently running on Facebook. You can use this tool to look up your competitors' ads, when they run them, what ad types they use, and how they deliver the messages. 
2. Instagram Ads
Just like Facebook, Instagram is great for building brand awareness. It's a highly visual platform that includes both images and videos. In fact, video content has grown to have a major presence on the platform, as organic video posts and video ads get 38% more engagement than images on Instagram. Instagram has recently provided immersive full-screen mobile video opportunities, so marketers can have several places to post their ads: Instagram feed, Stories, and Reels.
If you're wondering which is the best route for ads, AdEspresso suggests Instagram stories as it is relatively cheap but comes with high engagement. You can A/B test Story video ads and Reels ads to find out which one performs better for your objectives.
If you don't have the time or resources to produce a video, we've got good news for you. A study by Social Insider found that carousel posts bring higher engagement rates than videos or images. Additionally, carousels with eight or more slides tend to perform better. When making use of all ten slides available, the average engagement rate goes over 2%.
Pro Tip: Carousels with messages that encourage viewers to swipe left will result in higher engagement. These terms include any variation of swipe, swipe to see, swipe over, questions about which photo people like best, or even referrals to a slide number for extra information. This little detail in the caption boosts the average engagement from 1.83% to 2% per post, so keep this in mind when creating your carousel.
Here is a simple example of an Instagram Story Ad. Coinbase created a 15s explainer video providing a brief introduction of the company and enticed people to swipe up and explore it for themselves. 
3. LinkedIn Ads
LinkedIn is a social networking platform for work professionals. Unlike other social media platforms, LinkedIn users tend to be work-focused, and you can target them based on their job titles, the industry they're working in, where they work, and so on.
According to a report by The B2B House The CPC benchmark for Linkedin is $5.58 globally as of May 2022. If you're targeting senior decision-makers, the average number can goes up to $6.40. Here are some of the most common job functions that marketers target on Linkedin, together with average CPC benchmarks:
Accounting: $5.00

Business Development: $6.30

Education: $4.90

Engineering: $5.10

Finance: $6.90

Human Resources: $6.00

information Technology: $7.90

Marketing: $6.80

Media and Communications: $5.60

Operations: $5.70

Product Management: $7.30
Pro Tip: LinkedIn advertising tends to be pricier than other channels. Instead of running ads on this platform, having an active and solid presence on LinkedIn is a good alternative.   
4. Youtube Ads
YouTube ad campaigns are hosted within Google Ads, so running Youtube ads is easy if you have already been familiar with Google Ads. Because video ads have the ability to capture attention better than display ads, brands are utilizing Youtube videos to increase their brand awareness and engage with potential customers.
Although YouTube ads function quite the same as the Google Ads interface, it has different bidding strategies. Below are some bidding strategies for Youtube ads:
CPV (cost per view)

CPM (cost per thousand impressions)

maximize conversions ( when using the "drive conversions" video campaign subtype)

Target CPA (tCPA) (when using the "drive conversions" video campaign subtype)
CPM is an important indicator when it comes to Youtube advertising. Companies can use this metric to compare the effectiveness of search engine ads or ads on different social media channels. The average CPM on Youtube varies a lot by industry. In 2021, the average YouTube CPM rate in Singapore is $17.
As a whole, a Youtube ad is a good choice for driving awareness and consideration (ToFu and MoFu stage). A video is also a great content source as it can be utilized for almost any media channel: Website, social media, or email marketing. However, brands should pay attention to the length of your ad. A video longer than 15 seconds will be skipped after 5 seconds, so ensure your videos grab the attention in the first few seconds.
If you are looking to grow your online presence on social media, we are here to help. Our team of social media experts will work closely with you to create and implement your social strategies, so you can generate sales, drive traffic, increase registrations and more. 
Referral or Influencer Marketing
Referral marketing is a popular growth tactic that leverages word of mouth and recommendations. Below are some examples of how Fintech brands are implementing referral programs to get more referred customers:
Coinbase: As part of the launch strategy, Coinbase introduced a generous referral program to encourage users to spread the word about the app. When a referee initiated a buy or sell of a minimum of $100, Coinbase would pay a $10 commission to both the referee and referrer. This commission program attracted a lot of industry bloggers and influencers to sign up and promote Coinbase through their channels.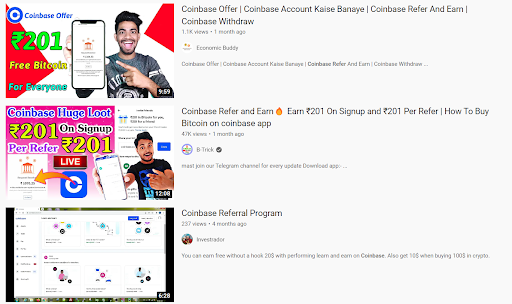 PrizePool: Launched in August 2020, PrizePool has its way to make saving money more fun: The company offers cash prizes guaranteed to total $50,000 every month based on your savings and spending habits (they publish a list of top winners every month). Interestingly enough, when you invite your friend to use PrizePool, and that friend wins the prize, you will also win 10% of the prize!
Revolute: Revolut is one of the most valuable Fintech startups in England. They created the Revolut Pioneer Program to increase brand exposure by partnering with carefully selected influencers and offering them attractive referrals and incentives.