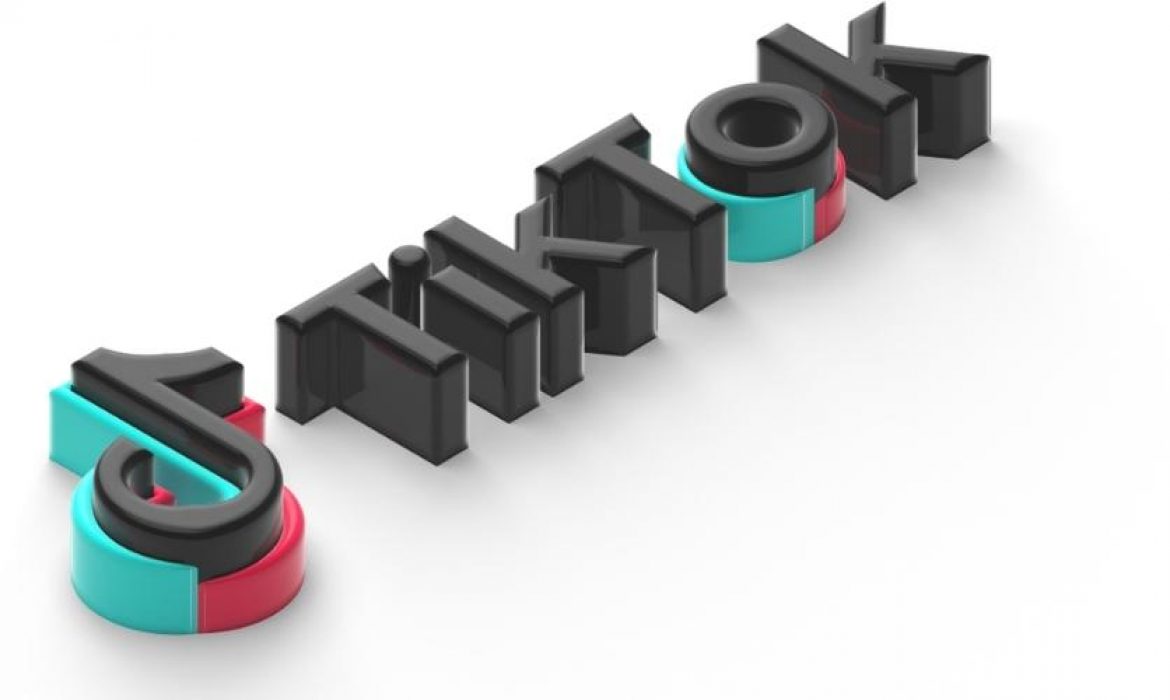 How the TikTok Algorithm Works
The TikTok algorithm is a complex system designed to display videos relevant to your preferences and interests. That's why the For You page is highly personalized for each individual user, as no two users will see the same videos on this page. This also means that the types of content you are recommended can also be changed as your interests change over time.
Factors that Influence the TikTok Algorithm
User interactions:

The videos you like or share, accounts you follow, comments you post, videos you add to your favorites, content you create, etc.

Video information

: Captions, sounds, trending topics, and hashtags.

Device and account settings:

Your language preference, country setting, device type, and categories of interest you selected when logging in. These factors are included to make sure the system is optimized for performance.
According to TikTok, some indicators are stronger than others: "A strong indicator of interest, such as whether a user finishes watching a longer video from beginning to end, would receive greater weight than a weak indicator, such as whether the video's viewer and creator are both in the same country. Videos are then ranked to determine the likelihood of a user's interest in a piece of content, and delivered to each unique For You feed."
Note: TikTok does NOT base recommendations on either follower count or whether the account has had previous high-performing videos. This means that even when you don't have a huge follower base, but your videos speak to the audience, you will have as much chance to land on the For You page as other accounts.
What the TikTok Algorithm Doesn't Show
As part of its content optimization, there are certain types of content that will not be showcased on your For You page:
Videos you've already watched

Duplicated videos

Spam content

Videos you've marked as "Not Interested"

Videos you skip through

Potentially harmful/upsetting videos
How to Create Viral TikTok Videos
The TikTok algorithm is always improving, so it is important to learn and adapt quickly to its new changes. Based on everything we know and experience, here are 7 ways to hack the TikTok algorithm and make your videos go viral on TikTok:
1. Use the 3-second rule
Tiktok is a fast-paced app, so the first 3-5 seconds are critical. Ensure your content is eye-catching and engaging enough to grab people's attention in the first few seconds. Otherwise, the algorithm will define your content as irrelevant or not interesting and will not boost your content.
2. Understand trends
It is important to spend a little time every day watching videos on TikTok. This helps you spark new ideas and keep up with the ongoing trends. In fact, 61% of TikTokers like brands better when they create or participate in a trend on TikTok. However, every trend has its moment. They come and go very quickly, so If you don't jump on them fast enough, you're likely to get lost in the shuffle.
Sephora Asia is famous for having an active presence on social media. Its creative content garnered 66k followers and more than 2.9M likes on TikTok. Earlier this year, when TikTok's For You page was filled with the #telephonechallenge, @Sephora_asia quickly caught this trend and attracted 9k views on TikTok with their video. 
3. Use Hashtags & Trending Songs
Hashtags and songs are your friends. According to studies from MRC Data's research, 67% of TikTokers said they prefer to see videos from brands featuring popular or trending songs on TikTok, and 68% said they remembered the brand better. To resonate with the audience, opt for hashtag challenges to participate in them.
A prime example of leveraging trending songs and hashtags is @Duolingo. Their TikTok account is a combination of short, humourous videos featuring their lovable owl mascot, together with trending audio. The consistency in content creation and sense of humour has garnered this brand 4.2 million followers and 97.7 million likes as of May 2022.
4. Create Branded Hashtag Challenges
There are two ways to go about TikTok challenges: Either you follow it or you create your own challenge. When brands sponsor a hashtag challenge, it's called a Branded Hashtag Challenge. This is an incredibly effective way to generate buzz about your brand.
As mentioned, the challenge should be fun and easy to follow – the audience can be challenged to do some action while dancing to a funny song, reinvent an influencer's video, or participate in a contest. Here are a few ideas for branded hashtag challenges:
Branded Effect

: Create a unique 2D or 3D effect.

Hashtag Emoji

: Customize the brand emoji that appears alongside the hashtag. 

Contest

: Leverage user-generated content by creating a contest with a sweet prize. 
Explore Page: Adds an "Explore" tab to the challenge page, which will lead to a customizable landing page within the TikTok app. You can use this way to gain more exposure for new products or offline stores.
5. Share Tips, Advice, or Interesting Fact 
Do you know that 45 percent of TikTok users feel more connected to brands that teach them something new? Sharing tips and advice on TikTok helps brands not only resonate with their followers but also build up their credibility. In fact, educational videos can be applied to a variety of brands, from beauty, fashion to fitness, or even software.
A typical example is @thehoneycombers, which provides the audience with tons of engaging content, from food reviews, cooking tutorials, to fun things to do in Singapore. Another example is @coachjasonho. As a TikTok influencer, he is famous for sharing his thoughtful advice on career and work-life struggles. His recent 2-minute video How to say NO to your boss gained him 26k views on TikTok.
6. Leave Some Questions Unanswered
Interaction is the key to helping you go viral on TikTok. If you post a video and think of a question that most people would have, don't explain it yet. Raise that question at the end of the video and ask the audience to comment on their answers. Even better, say that you will explain it in the next video coming on [specific day]. This will make people curious and come back for more.
7. Collaborate with TikTok Creators
The power of TikTok influencers cannot be denied. By collaborating with influencers whose followers match the target market, brands are able to tap into their targeted audience, build interest in their products, and drive more leads. If your business is in the beauty or fashion industry, optimising influencer marketing on TikTok via TikTok Marketing Agency could be a game-changer.
Daniel Wellington (@danielwellington) is one of the brands that invested heavily in influencer marketing. The concept behind its strategy is simple yet effective: They frequently gift free watches to influencers together with discount coupons in their names to share with their followers. Creative control remains with the influencers – the only requirement is to use branded hashtag #danielwellington, #danielwellingtonsg (if the influencer is based in Singapore). The brand has recently started partnering with TikTok influencers to grow its presence on this platform. 
Define Your Target Audience
While TikTok offers a great opportunity for brands to gain visibility, ensure TikTok's demographic fits your customer profile. If you are selling B2B software, having a presence on TikTok may not be necessary. If your audience demographic is middle-aged people, you would have a tough time finding your target customers here.
It is important to note that while TikTok is dominated by Gen Z and Millennials, older groups are also jumping on the TikTok train, particularly 25-34 years old who started using TikTok during the Covid-19 lockdown. Besides, women are just slightly more than men on TikTok (57% and 43%, respectively), so brands have equal opportunities when it comes to approaching male and female customers.
Define Your Goals on TikTok
What do you want to achieve with TikTok marketing? A majority of businesses come to TikTok with the aim to increase their visibility and reach out to new customers. While a study showed that TikTok drives greater engagement, there is no evidence this app is better at driving leads compared to other social media platforms. Lots of views, shares, and comments don't necessarily mean people would buy your products. It simply means that they like your videos and your brand, which is a positive indicator.
It is crucial that you spend time researching and learning from top-performing competitors in your industry. Look for brands that are doing well on the platform and identify what elements contributed to their success. Here are some factors you may want to look out for:
What types of content do they use? What hashtags?

What are the messages?

What time do they post? 

Do they partner with any influencers?

How do they create the sponsored content?
Note: We don't recommend you steal from your competitors, as there is no one-size-fits-all approach. It is always good to look around and take some inspiration, so you will know where and how you should start.
Develop TikTok Content Strategy
Your content should be authentic and relevant to your target audience. TikTok is a playful and informal platform, so don't feel the need to create sophisticated content. Additionally, you also need to find a natural fit between the product and TikTok videos. Here are some types of content you can take into consideration:
Behind-the-scenes

Live-streaming

TikTok challenges/trends

Educational content

Influencer partnership

Advertising (more on that later)
Use Advertising on TikTok
In-feed ads / In-feed Native Videos
In-feed ads are the most popular form of TikTok advertising. They run on three models: CPM (cost per impression), CPC (cost per click), and CPV (cost per 6-second view). Brands can create a target audience based on age, gender, and location. There are options to add links and call-to-action buttons.
The minimum campaign spend for daily budgets and total budgets is over 50 USD. For ad groups, daily budgets must exceed 20 USD. You can always go to TikTok Ads Manager to stay updated with its budget requirement. Apart from the number of views, likes, and comments, brands can measure their ad performance by looking at click-through rate and cost per click. A good click-through rate should be above 1%.
Hashtag Challenge Ads
Hashtag challenge ads promote branded hashtags to encourage users to participate in the challenge. They appear as a banner on the discover page, redirecting the users to an instruction page for joining the challenge. If done right, the branded hashtag challenge can result in meaningful connections and huge user-generated content. However, it comes with a high price tag.
According to Influencer Marketing Hub, the average cost for hashtag challenge ads has a flat fee of $150,000 for six days. The number is updated until September 2021 and is subject to change. If you are a small business, we recommend you create and promote your hashtag challenge organically.
Branded Effect Ads
Like Instagram filters and Snapchat branded lenses, TikTok allows brands to create an ad with their own custom filter. The branded effect ads can be run for up to 10 days, and it is a  fun way to encourage people to engage with your business. Even better, use a combination of a Branded Hashtag Challenge paired with a Branded Effect to make your content go viral.
Brand Take Over Ads
With a brand takeover ad, ads are displayed when users open the app, so brands can get immediate attention from their targeted users. Given the format, this ad is best suited for awareness campaigns. However, TikTok only allows one brand to take over a category a day, so you need to pay premium prices for this spot. According to a report, the average cost for a brand takeover ad is around $50,000 per day with 5 million impressions guaranteed. The number can vary depending on your ad campaign.
Shoppable Ads
TikTok is building its influence in eCommerce. Shoppable ads, or Hashtag Challenge Plus, is a new form of ad that includes a shoppable component to a hashtag, directing users to shop within TikTok. Brands who are Shopify merchants are able to connect their TikTok's Business account with their Shopify account and advertise on TikTok via in-feed shoppable video ads.
Since this is a new feature, it is currently available to merchants in the United States and the United Kingdom. If you have a Shopify store with a business address in the US or the UK, you can try setting up TikTok shopping partner Integration on Shopify.
Track and Analyze Your Performance
TikTok Pro account is currently free for all users. It offers valuable insights that help brands and influencers analyze their performance such as weekly views, trending videos, engagement, and traffic sources. Here are 3 simple steps to set up a Pro Account:
From your profile page, tap on the 3-line icon on the top right to access settings.

Choose "Manage My Account" and then "Switch to Pro Account". 

Choose either Creator or Business account, and fill in the required information.
Once your Pro Account is activated, you will see an analytics button under your account options. Simply tap into that to open the Analytics tool.
1. Create a TikTok Ads Manager Account
Step 1: Create your login
Go to TikTok Business https://ads.tiktok.com/i18n/signup/ to sign up. 
Step 2: Complete your account setup
Provide basic information about your business, including country/region, time zone, your preferred currency for billing, and business name. Double-check to ensure the information is correct. The Time Zone can not be changed later, and the "Business Name" of your account must be the same as (or closely related to) your company's legal name.
Step 3: Enter your business information
You will see a dashboard where you can enter your business and billing information. From the "Account Settings", click "Account Info", and complete the Business information.
In the company website box, enter your company's website in the following format: https://www.tiktok.com/. The website should function properly, contain the required contact information, and be relevant to the product or service you want to promote.
For Business Verification, upload a government or officially issued number that you use to do business or pay taxes in your country, but this is optional.
Step 4: Select a Payment Method
Choose your Payment Type: Manual Payment or Automatic Payment. We recommend you choose Manual Payment, as Automatic payment is not available in all markets at this time.
Please note that the payment method is set up, you will not be able to change it.
Step 5: Submit Account Information
After you submit your account information, TikTok will start reviewing your account. This process can take up to 24 hours. There are 4 common reasons why a TikTok account is not approved:
The "Business Name" doesn't match the name on the website and official documents.

The company website is in the wrong format. It should look like this:

https://www.tiktok.com/

.

The company website does not clearly promote a product and/or has no valid information on the landing page. You can read more about TikTok's requirements for the landing page in

TikTok Advertising Polices – Ad Creatives

.

The promotion of the products or services may be prohibited in your market (cigarettes, flamethrowers, etc)
TikTok Ads Manager structures ads into three parts: Campaigns, ad groups, and ads. A campaign is an overall activity, while ad groups and ads are the functions within the campaign.
Step 1: Login
Log into the TikTok Ads Manager. Click on the Campaign button located at the top of the page, then click "Create" to start creating your campaign.
Step 2: Choose your objective
TikTok's ad has seven objectives, which fall under three categories: Awareness, Consideration, and Conversions.
Category
Objective
Business Goal
Awareness
Reach
Increase awareness and expand reach beyond existing followers
Consideration
Traffic
Drive users to any URL
App installs
Drive users to download an app
Video views
Maximise the number of times your ad is played
Lead generation
Collect leads with a customizable instant form
Conversions
Conversions
Encourage users to take specific actions
Catalog sales (new)
Create personalized product ads based on your product catalog
Step 3: Set up your campaign name and budget
Campaign name is up to 512 characters.
If you prefer to set the budget limits for specific ad groups rather than the whole campaign, you can set No Limit to your campaign budget. Otherwise, you can set a daily or lifetime budget for your campaign.
Campaign Budget Optimization (CBO) allows you to optimize a single set of budgets for all the ad groups that belong to your campaign rather than setting it individually. You can read more about Campaign Budget Optimization here.
Now, we are done with the campaign level. The next step is to set up the ad group.
There are 5 factors to work with at the ad group level:
– Ad Placements 
– Creative Type 
– Target Audience 
– Budget & Schedule 
– Bidding Method & Optimization
Note: Within a campaign, you can have different ad groups for different audiences. Please keep in mind that the placement setting cannot be changed after an ad group is created.
Step 1: Select the ad placements
Ad placement is where your ad will appear on TikTok. With "Automatic Placement", you will allow TikTok to optimize delivery across all placements. With "Select Placement", you can select manually where you wish to deliver your ads. There are three main placements in TikTok Ads Manager:
TikTok placement: In-feed ads on the For You page.

News Feed App placement: Ads within TikTok's other apps—BuzzVideo (Japan), TopBuzz (US and BR), Babe (Indonesia), and NewsRepublic (worldwide).

Pangle placement: The TikTok audience network.
Not all placements are available in all locations. It depends on the ad type, targeting, ad creation, and country of delivery. You can learn more about your placement options here.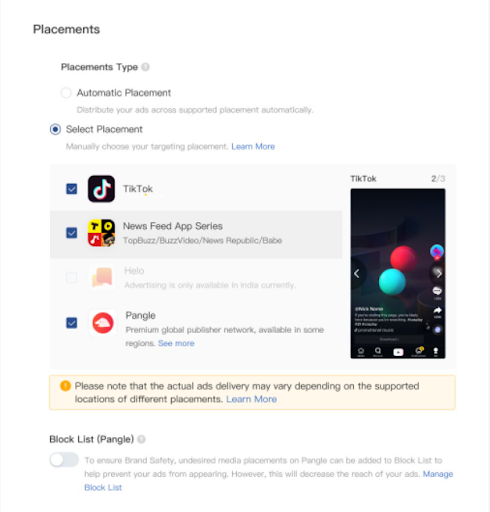 Step 2: Choose the desired creative
When you turn on Automated Creative Optimization, the system will automatically generate combinations of your creative assets (images, videos, and ad texts), and deliver only the high-performing combinations. TikTok recommends that new advertisers turn this setting on.
Step 3:  Choose your target audience
TikTok allows you to create custom audiences just like Facebook. There are numerous audience targeting filters for you to select such as age, gender, interest, location, and operating system.
Step 4: Set the budget and schedule
Budget: You can select a Daily Budget or a Lifetime Budget.

Schedule: You can choose a date range to run your ad or continuously run your ad after the start date. 

Dayparting: You can select certain time periods within the day. If you select All day, the ads will run throughout the day during the scheduled time. If you choose Select Specific Time, the ads will run at specific time periods.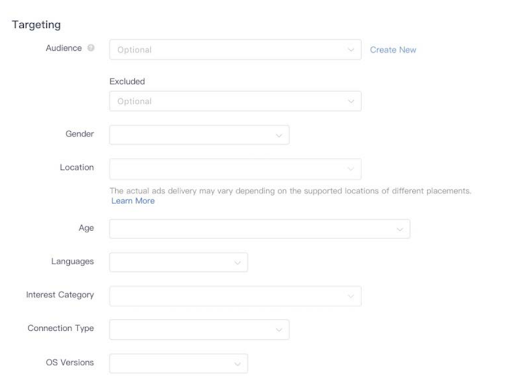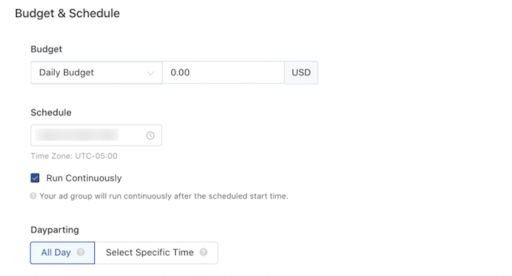 Step 5: Set up the bidding and optimization
1.Optimization goal
There are three goals to choose from. Once your optimization goal is set, the system will automatically set the billing event:
Conversions: Your bidding method is oCPM (optimization Cost Per Mile) and the payment method is CPM.

Clicks: Your ad will be billed as CPC (Cost Per Click)

Impressions: Your ads will be billed as CPM (Cost Per Mille).
2. Bid strategy
Bid Cap: Indicate the maximum amount per click (CPC), per view (CPV), or per 1,000 impressions (CPM).

Lowest Cost: The ad system uses the ad group budget to generate the maximum number of results possible at the lowest cost per result.
3. Bidding
Set how much you are willing to pay per thousand impressions, per click, or per conversion.
4. Delivery type
Standard: Your ad budget will be spent evenly during the scheduled time. 

Accelerate: Your budget will be spent as fast as possible during the scheduled time. 
Important: Once your ad group is created, the Start Date, Optimization Goal, Conversion Event, and Smart Optimization cannot be changed.
We know! Finally, we can make an ad! All you need do is to upload your creatives, fill in some details, and submit.
First, enter your ad name and select the ad format. TikTok supports two types of ads: Image and video ads. Then you can upload your creative with three options:
Add from Computer: Upload video directly from your computer.

Add from Assets: Access and select your previous ads. 

Create a Video: Create a new video by selecting either "Use Video Template" or "Smart Video". 
For the cover photo, you can choose one of the default thumbnails or upload your own photo. Then enter your text and link. When you are done, don't forget to check the preview to see how your ad looks like.
For tracking, TikTok allows brands to add third-party tracking URLs and pixels to track their ad performance. You can learn more about TikTok pixels here and see a list of supported third-party tracking partners. When you are done, click the "Submit" button to trigger the ad review process. 
5 Tips To Optimize Your TikTok Ads
Choose the Best Audience for Your Campaign
Make sure your TikTok ads are placed in front of the right people. You can filter them with multiple dimensions including gender, location, interest, and more. The other way is to consider letting TikTok create Lookalike Audiences – the audience groups that share similar profiles with your current customers. This can increase the chances of the audience viewing and engaging with your ad. More about Lookalike Audience can be found here.
Have a strong CTA
Do you know that replacing "you and "your" with "I" and "my" can lead to a 24 percent increase in conversions? This is because using first-person pronouns can make visitors feel connected and get the personal benefit of clicking.
Of course, an effective call-to-action button is not as simple as just using first-person pronouns, but you get the idea. An example of playing with your CTA is from Daniel Wellington. Instead of using the popular CTA "Shop now", the brand made it a lot more interesting: "We're throwing some shade with our new eyewear collection. Are you in?".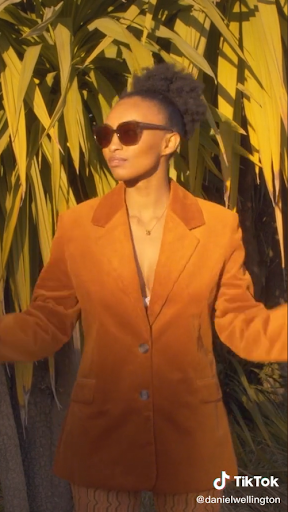 Have a diverse set of content
We all know engaging content is critical to success, but here's another thing about it: It should be diverse. The platform recommends brands develop a set of five to six different creatives per ad group. These creatives keep your campaign fresh and relevant —without boring audiences.
Experiment with Bid & Budget
According to TikTok, brands looking to optimize conversions should tailor their strategy to have at least 50 conversions per week. If you are starting out on the platform, begin your campaigns with a 1.2x – 1.5x your typical cost per acquisition (CPA), and optimize the bid price from there.
Here is a list of the different ways you can bid TikTok. If you want to experiment with different bidding strategies and compare the performance, use the Split Test function to run an A/B and select Bidding & Optimization as your variable.
Do A/B test
From creative, target audience to bidding strategy, conducting A/B tests is an ideal way to optimize your ads, especially if you are new to the platform. Make sure all other variables are constant, so you can measure the impact of the testing variable.
Note: Avoid testing during the holidays and other seasonal moments, as this can skew your test results. 
TikTok Promote is another advertising tool to help TikTok users promote their organic videos. It is an easy and effective way for brands to increase visibility and send leads on their websites. Below are some analytics that TikTok Promote offers:
The number of views, likes, comments, and shares

The number of people who visited your website link.

The age and gender of the people interacting with your content.
For this type of campaign, you can only promote public videos with original sound, or a sound specifically created for commercial purposes. The Promote feature isn't available for videos containing copyrighted sounds.
Here's how to make your organic video more visible with TikTok Promote.
Step 1: Set up your campaign
There are two options to set up the campaign. You open the video you want to promote, tap on the three dots near the bottom-right corner, then tap the Promote button.
Another way is to access settings from your profile page. Tap on the 3-line icon on the top right in your profile page, tap Business suite, then tap Promote.
Step 2: Choose a goal for promoting your video:
More video views. 

More website visits. 

More followers.
If you choose "more website visits", enter your website URL and choose an action button for your website.
Step 3. Target your audience. You can choose from:
Automatic: TikTok will choose the audience for you.

Custom: You can do it manually by choosing genders, age, and interests.
Step 4: Set your budget and duration
If you use an Android device, you'll need to add payment information before submitting your ad for review. If you're an iPhone user, you can recharge your account with virtual coins.
Step 5: Have your campaign reviewed
Tap Start promotion to allow TikTok to review your campaign.
Once a Promote video is live, you can check your video's performance. Simply tap on the three dots in the bottom right corner of the post, and tap the Analytics button. It will show information including:
The status of your video (pending review, active, paused, or rejected).

The number of views, likes, comments and shares.
Average watch time

The number of link clicks (if you chose to promote your website).

The number of unique users who see your video.

Age range and gender percentages.
To track your follower growth rate, go to Settings and Privacy > Business Suite > Analytics. You'll find analytics for your entire account, including engagement metrics, content, and follower information.
With TikTok marketing, it is very important to find the right trend and content. Creative, authentic and entertaining content plays a big role in this platform.
When you first get started, you would probably feel like your content doesn't have the attention it deserves. Our advice is to be consistent. Keep posting on a regular basis, follow the TikTok algorithm and take advantage of the latest trends, and you are sure to be rewarded!